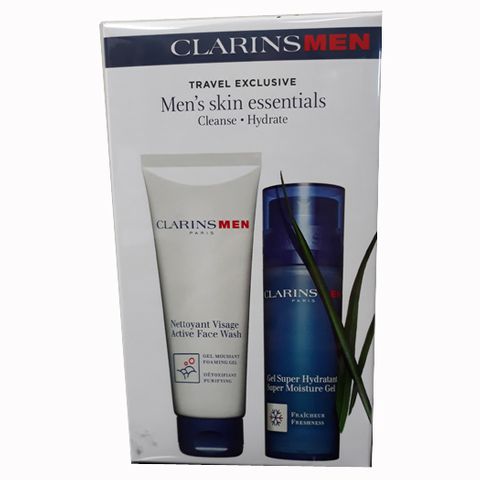 MENS SKIN ESSENTIALS PACK
Stock Code:
3380810293296
Description
A complete routine for men. Keps skin perfectly clean, moisturised and looking younger.
Face Wash - Man up for an ultra-clean complexion with a foaming facial wash that tackles dirt, grime and pollutants with the gentle purifying power of Grindelia and Gaultheria extracts. Leaves razor-burned skin soft, toned and geared-up to handle whatever comes its way. Non-drying. Mild enough to use twice daily.
Super Moisture Gel - Powered by ClarinsMens' exclusive Hydra-Resist Phyto Complex—a blend of super-hydrating Organic Houseleek and Organic Leaf of Life extacts—this cooling gel maximizes hydration in a man's skin, even in the face of extreme temperatures.

The lightweight formula contains Zinc to defy shine and matify, ClarinsMen Complex calms and tones his skin after shaving. Bison Grass and Gymnema extracts soothe and energize.